CWBI is happy to have a new official chapter joining its international network of clowns !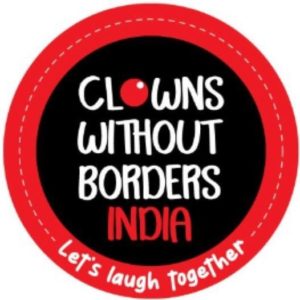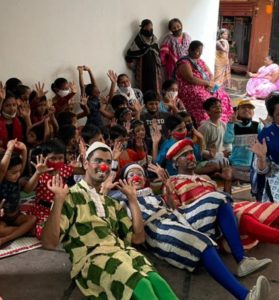 After many years of collaborating in partnership with CWB chapters, and after two years of pandemic that have been slowing down the administrative process and paperwork, we are happy to inform that CWBI has an official chapter in India ! 
CWBI is now composed of 15 national chapters and welcomes its first chapter in the Asian continent.
Rupesh Tillu, founder of CWB India, grew up in Mumbai and has been associated with CWB projects in different places of the world since the past ten years. He attended a clowning workshop by a trainer from Germany and realized  "that I had been doing this my whole life. I just wasn't aware that it was called clowning."
It sparked his interest in the art form, following which he applied to Clowns Without Borders in 2007 and was accepted into a six-month international programme, in Sweden. He joined them full time the following year. Then he joined many CWB tours in Moldova, Egypt, Palestine, Bhutan, etc. Living then in Sweden, he joined a project supported by CWB Sweden to bring psychosocial support to the red light district young girls in Mumbai, India.
In 2013 and 2014, the project continued not only with the girls but also with their mothers joining the shows, and also offering training to the girls, so they could perform themselves the following years. In 2015, he moved back in Mumbai and progressively gathered artists from various backgrounds, starting the process to create an official CWB chapter in India.
The chapter is working on 4 main projects :
Katha-rsis : personal stories of performers creating a cathartic experience
AWWaC Do : giving a voice to the girls from the AAWC centres in Kamatipura
We-Shesh : empowering one of the long term participant as a trainer and theatre director
Poori-Fication : training minor age girls rescued from engaging in sex trade and trafficking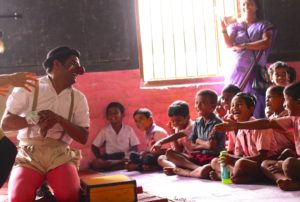 "Art brings communities together and can transform violent energy into constructive and creative energy. If you don't support your community or any community to laught together, the violence will knock to your house one day."
If you want to learn more about CWB India and its ongoing projects, please take a look at the presentation attached here.
To learn more about Rupesh Tillu and CWB India's story, click here.