"Miles of Smiles" was created for anyone, especially artists, who would like to know more about how to lead Clowns Without Borders projects in crisis areas around the world.
It contains educational tools, artistic references, security rules, an evaluation protocol, elements of reflection about artistic performances and humanitarian situations and it is enriched by many examples from the field.
CWBI would like to thank all people who participate to this project, all the artists, volunteers, donors and partner organizations for their contribution.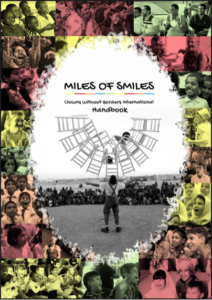 This encyclopedia was initiated by Clowns Without Borders International with the support of UNESCO. It was created in response to the many queries CWBI has received from partners around the world, asking where to find resources of quality related to clown. CWBI aims for this encyclopedia to be a resource to anyone interested in clowning, including clowns in training and people interested in learning more about the specific work of performing in areas of crisis and healthcare environments. This is an open community platform and content submissions are encouraged.